About
Situated in the Spa Tower on the south side of the JW Marriott Las Vegas Resort, Hawthorn Grill features a rich bar area, perfect for an after-work or pre-dinner drink; a large, yet cozy dining room easily accommodating a large family dinner or a romantic date; and an expansive outdoor patio with a vibrant waterfall surrounded by lush foliage.
Dress Code: Business Casual
Type of Cuisine: A balance of American classics and Steakhouse fare
Restaurant seating capacity
220 seating in dining room
55 seats in the lounge
100 seats on the patio
Meet Our Team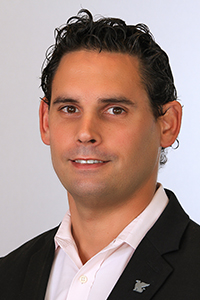 Greg Monjure | General Manager
Bio coming soon…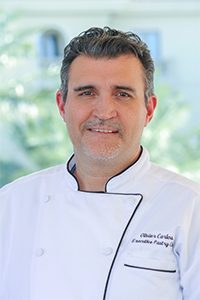 Olivier Carlos | Executive Pastry Chef
Chef Olivier Carlos grew up in Paris and at the age of 16 went to work in a kitchen as an apprentice cook. Despite the long hours, he quickly grew comfortable in the quiet and creative environment. After gaining his C.A.P in classical cooking in June of 1987, he began formal study of the pastry arts. From 1989 to 1991, he was an apprentice at Fauchon and explored different techniques in pastry arts. He then earned his C.A.P in pastry, the "Brevet de Maitrise Technologique" (master's degree in pastry), and the "Artistic de Patisserie" (diploma in the art of pastry-making). He began working in a number of France's most distinctive patisseries. In addition, he worked with Philippe Segond (MOF) for many years as Assistant Pastry Chef in Aix en province. In 1992, Chef Olivier earned 3rd place in the Coupe de France competition in France.
Prior to becoming Executive Pastry Chef for Hawthorn Grill, Chef Olivier served as Executive Pastry Chef for Flamingo Las Vegas and as a Pastry Chef at Paris Las Vegas with Jean Claude Canestrier (MOF), "The World's Best Pastry Chef". He has also worked internationally in Anguilla, Japan, and Saudi Arabia.
Aside from fulfilling his current duties at Hawthorn Grill, Chef Olivier is also teaching at the College of Southern Nevada's Culinary Program. He does more than instruct his students in baking and creating exquisite sugar arts; he inspires them to such a great degree that the progression of their work is like that of a professional. Chef Olivier finds it very gratifying to create and design elaborate, unique desserts that bring smiles to the faces of his guests.