About
Situated in the Spa Tower on the south side of the JW Marriott Las Vegas Resort, Hawthorn Grill features a rich bar area, perfect for an after-work or pre-dinner drink; a large, yet cozy dining room easily accommodating a large family dinner or a romantic date; and an expansive outdoor patio with a vibrant waterfall surrounded by lush foliage.
Dress Code: Business Casual
Type of Cuisine: A balance of American classics and Steakhouse fare
Restaurant seating capacity
220 seating in dining room
55 seats in the lounge
100 seats on the patio
Meet Our Team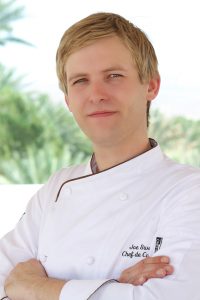 Joseph Swan | Executive Chef
As most children in the Midwest, Chef Joseph Swan was raised in a home centered around family cooking.  A younger chef at heart, Swan began cooking with his grandmother at a young age and seeing his talent early on, grandmother gave him the freedom to experiment with recipes while most other kids were making peanut butter & jelly sandwiches.  In 2002, Swan left his home in Cleveland, Ohio to officially start his culinary education at the famed New England Culinary Institute in Vermont.
Upon graduation in 2004, Swan returned to Ohio moving up the ranks from Chef Tournant at Masionette in Cincinnati to joining celebrity chef Michael Symon in Cleveland at Lolita and Lola.  In 2008, he moved to Las Vegas to begin a successful partnership with James Beard award-winning chef, Alex Stratta.  With Stratta, he joined the team of Alex from 2008 – 2011 then moved to local favorite Marche Bacchus as Executive Chef, followed by a move to New York City to serve as Stratta's consulting chef for Bigoli Restaurant working to design and develop menus, conceive the overall concept and open the West Village hotspot. Wanting to be back in the kitchen, he returned to Cleveland and Lola, this time taking the helm as Executive Chef.  While at Lola, he upheld the prestigious AAA Four Diamond Award for three years and developed seasonal menus implementing the local and sustainable focus of the restaurant.   Two years ago, Swan returned to Vegas to show off his French cooking skills as Executive Sous Chef at the famed Eiffel Tower Restaurant at Paris Las Vegas Hotel & Casino.  Chef Swan recently became the Executive Chef of Hawthorn Grill and is sure to delight diners with his commitment to upscale flavor profiles, sustainable ingredients and a fresh approach to the traditional steakhouse fare.
Always one to stay humble about his craft, Swan continues perfecting his skills and always learning about new trends and techniques in the kitchen.  Out of the kitchen, one will find him cycling and hiking in Las Vegas.  A lover of animals, he is also dedicated to his menagerie of pet including one cat and four dogs.
Olivier Carlos | Executive Pastry Chef
Biography coming soon…
Cecile Herve | Hawthorn General Manager
Biography coming soon…