About
Situated in the Spa Tower on the south side of the JW Marriott Las Vegas Resort, Hawthorn Grill features a rich bar area, perfect for an after-work or pre-dinner drink; a large, yet cozy dining room easily accommodating a large family dinner or a romantic date; and an expansive outdoor patio with a vibrant waterfall surrounded by lush foliage.
Dress Code: Business Casual
Type of Cuisine: A balance of American classics and Steakhouse fare
Restaurant seating capacity
220 seating in dining room
55 seats in the lounge
100 seats on the patio
Meet Our Team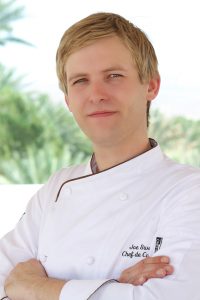 Joseph Swan | Executive Chef
As most children in the Midwest, Chef Joseph Swan was raised in a home centered around family cooking.  A younger chef at heart, Swan began cooking with his grandmother at a young age and seeing his talent early on, grandmother gave him the freedom to experiment with recipes while most other kids were making peanut butter & jelly sandwiches.  In 2002, Swan left his home in Cleveland, Ohio to officially start his culinary education at the famed New England Culinary Institute in Vermont.
Upon graduation in 2004, Swan returned to Ohio moving up the ranks from Chef Tournant at Masionette in Cincinnati to joining celebrity chef Michael Symon in Cleveland at Lolita and Lola.  In 2008, he moved to Las Vegas to begin a successful partnership with James Beard award-winning chef, Alex Stratta.  With Stratta, he joined the team of Alex from 2008 – 2011 then moved to local favorite Marche Bacchus as Executive Chef, followed by a move to New York City to serve as Stratta's consulting chef for Bigoli Restaurant working to design and develop menus, conceive the overall concept and open the West Village hotspot. Wanting to be back in the kitchen, he returned to Cleveland and Lola, this time taking the helm as Executive Chef.  While at Lola, he upheld the prestigious AAA Four Diamond Award for three years and developed seasonal menus implementing the local and sustainable focus of the restaurant.   Two years ago, Swan returned to Vegas to show off his French cooking skills as Executive Sous Chef at the famed Eiffel Tower Restaurant at Paris Las Vegas Hotel & Casino.  Chef Swan recently became the Executive Chef of Hawthorn Grill and is sure to delight diners with his commitment to upscale flavor profiles, sustainable ingredients and a fresh approach to the traditional steakhouse fare.
Always one to stay humble about his craft, Swan continues perfecting his skills and always learning about new trends and techniques in the kitchen.  Out of the kitchen, one will find him cycling and hiking in Las Vegas.  A lover of animals, he is also dedicated to his menagerie of pet including one cat and four dogs.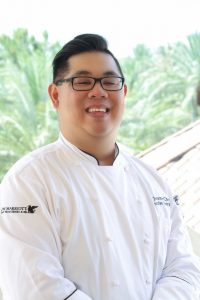 Jeremy Choo | Executive Pastry Chef
As sweet smells of freshly baked pastries fill the JW Marriott Las Vegas Resort Pastry Kitchen, that's where you find our Executive Pastry Chef Jeremy Choo.  Hard at work making the wonderful sweets for guests and conceiving the crave-worthy creations at Hawthorn Grill, Choo relishes in his chosen and self-described challenging position.  He loves to conceive new and tasty treats to keep his guests entertained and prides himself on the needed passion, patience and dexterity he feels is key to succeed in his profession.
Hailing from Hawaii, Chef Jeremy Choo is the third generation Chef in his family to continue the craft. Besides helping his father and uncle at an early age in the kitchen, he officially starting working at Roy's Restaurant while still in High School. While attending University of Hawaii, Maui Campus, Choo took additional training classes under three master pastry chefs – Stanton Ho, Ewald Notter, and Donald Wressel. From there, he joined the Ritz Carlton Kapalua Resort to expand his pastry knowledge on Maui.  Upon graduation from culinary school, he left his home and transferred to the Ritz Carlton Lake Las Vegas to work for World Champion Pastry Chef Chris Hanmer. Choo was then tapped by Master French Pastry Chef Frederic Robert to be part of the opening pastry team for Encore Tower at Wynn Resort Las Vegas. Striving for more knowledge and experiences, Choo traded in the neon lights of Vegas for the bright lights of Paris to train under such master pastry chefs as Stephane Klein, Jerome de Oliveira, and Sebastien Bouillet. After perfecting his craft in France, Choo returned to his native islands to take on the role as the Assistant Pastry Chef of the Four Seasons Lanai Resorts. After assisting with the renovation of that resort, he became the Executive Pastry Chef of The Kahala Resort on Oahu. After enjoying island life for a while, Choo craved another challenge, one that would expand his craft and led him to his current role at the JW Marriott Las Vegas Resort.
When not in the kitchen perfecting sweat treats for guests, Choo is an avid golfer and loves to travel.  He also tries to give back to kids by donating time to local culinary programs